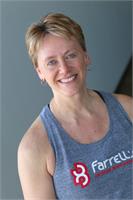 Corrine Evenson
I started at Farrell's in July 2014. I was intrigued by a postcard I received in the mail from Farrell's. For years before the postcard, I had been kickboxing at one gym and strength training in another gym. I liked the idea of being able to do both in one gym in a structured format. But I also really liked the idea of finally attacking my nemesis - nutrition. So, after a quick call to get more information, I signed up and never looked back.
I've had a passion for kickboxing for years and wanted to help others nurture their own enthusiasm for the sport. So, in June 2015 I started instructing kickboxing and love it. I'm zealous when it comes to form (pivot, guard up) on the bag and thoroughly enjoy answering questions from fellow members, 10-weekers and FIT alike.
I started teaching strength training in December 2016 and like kickboxing, love it. There is something magical about seeing people of all ages, shapes and sizes get stronger, often to their own surprise. As an instructor I enjoy helping everyone in that challenging yet exciting journey.
I'm confident I will be at Farrell's far into the future for many reasons. Just a few: The Environment - it is positive, motivating and nonjudgmental but also keeps you accountable. The People - the owners, managers, instructors, coaches and fellow members are all in this together - you have a support system with everyone. The Fun - yes, happy hour now has a whole new meaning. The Results - living a healthy lifestyle physically, nutritionally and emotionally. At Farrell's anything is possible because, "Yes You Can!".